280 Park Avenue, a joint venture between Vornado Realty Trust & SL Green Realty Corp., is the hottest building on Park Avenue. Ownership has recently completed a $150 Million redevelopment of the asset which included a new entrance and lobby, new elevators, new plazas/green spaces, and a new interior atrium accompanied by a reflection pool. This redevelopment has lead to an incredible onslaught of new leasing with financial services firms such as Teneo Holdings, PJT Partners (a spin-off of Blackstone), Cohen & Steers Capital, Blue Mountain Capital, Taconic Capital, Napier Park Global, & Mount Kellet Capital Management.
In an effort to continue to cater to the boutique financial services tenancies, Vornado & SL Green have embarked on a pre-built program in the building to attract smaller funds who prefer already built space. The available pre-builts are listed below:
Partial 4th floor - 5,875 rentable square feet
Partial 5th floor - 7,833 rentable square feet
Partial 28th floor - 6,359 rentable square feet
Partial 35th floor - 6,179 rentable square feet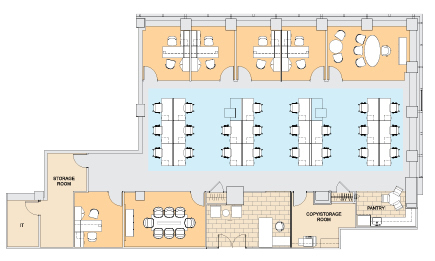 Lastly, the esteemed Park Avenue staple, The Four Seasons Restaurant, has committed to taking 19,000 square feet in the retail portion of the building. The Four Seasons is leaving its home of 50+ years, 375 Park Avenue when their lease is up in July of 2016.
Want to learn more about the revitalized 280 Park Avenue? Please feel free to reach out to the NYC Fund Spaces team!
info@nycfundspaces.com
This advertisement does not suggest that the broker has a listing in this property or properties or that any property is currently available.